What your Loyalty Points are worth:
Points can be redeemed as a payment toward any purchase in the store

F.A.Q
How do I become a Royal Rewards member?
Easy, sign up to create your account.
Are there any products exempt from earning points at purchase?
Yes, any product that is less than $1 will not calculate any reward points.
How do I redeem my points?
Once you are ready to check out, you can redeem your points.
How do I refer a friend?
After you have created an account, click the "Account" link in the top header. On the left side of the My Account menu you will see "My referral dashboard". Clicking here you will see your referral link and code.
The easiest method to share will be to use the built in "share" options as your link will be sent by the method you choose. You can also copy and paste your link into an email or text message to referral others.
You may also share your code directly. Whether you are sharing your link or referral code, instruct your referral to go the "My Account>My Referral Dashboard" and click apply on the referral code. Points are applied to referring accounts after the first purchase of their referral.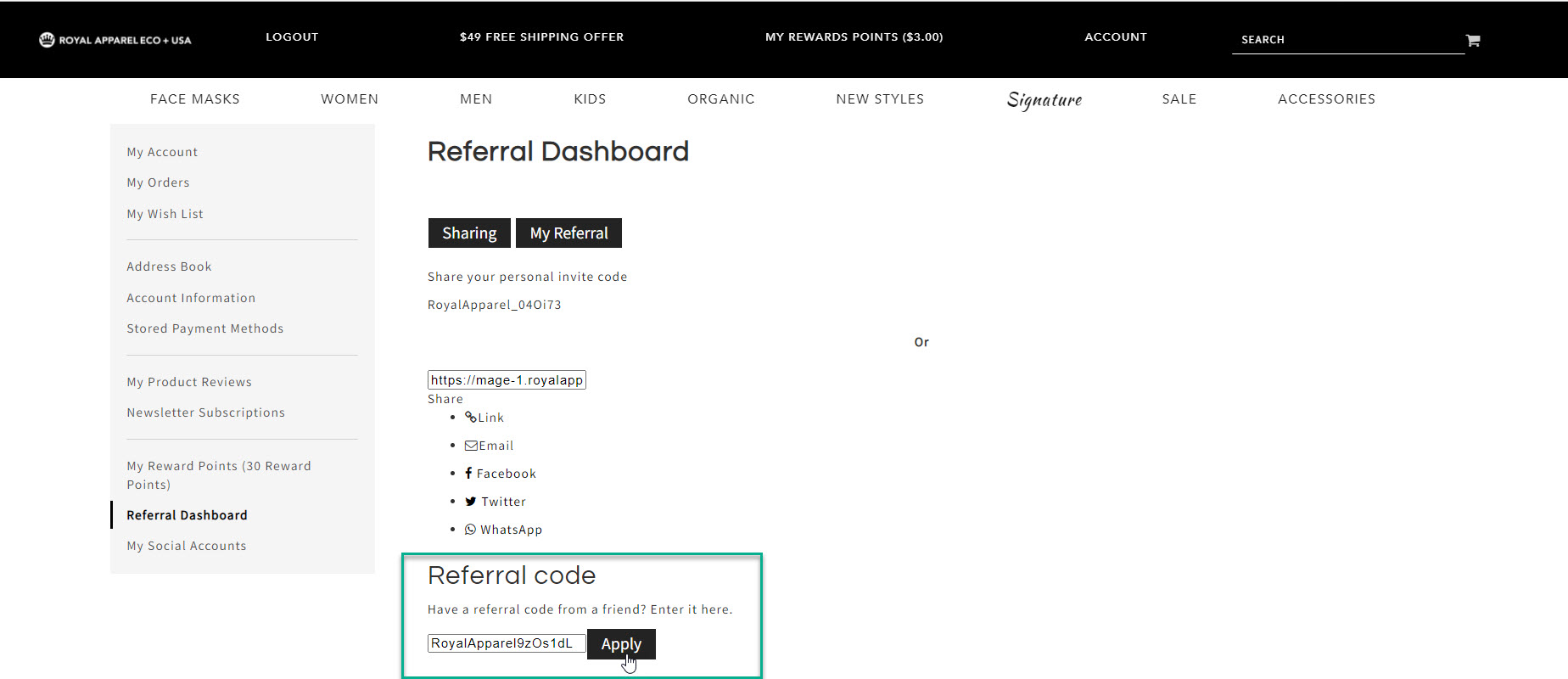 When do I get my "refer a friend" $10 credit?
New accounts getting referred will get their $10 in reward points (100) after creating an account and applying the referral code to their account. Those referring new accounts will get their 100 points once their referral makes a purchase.
Do my points expire?
Yes, your points expire after 365 days. You will get reminded to use your points 30 days before expiration. Points earned for making a purchase and newsletter subscription rewards are issued same day. Reward points for making a review may take a few days until your review is approved.
What can points be applied to?
Points are applied to product cost after any discounts are applied, before shipping and taxes.
How are points earned from making a purchase calculated?
Your points are calculated after any discounts, before tax and excluding shipping.
How many points do you need accumulated before you can use them?
You can spend any points you have available on any purchase, up to the product total cost. Shipping is not included.
How do I check my points balance?
Log into your Royal Apparel account, your available points value will be displayed in the top bar of the website. You also will be emailed each time your points balance is adjusted up or down.
Will points be refunded if I return an item?
Yes, the equivalent number of points spent on returned items will applied back to your account. Any points earned for the returned items will also be debited from your account.